Half plate daguerreotype by Rufus P. Anson, 589 Broadway, N.Y.

Die Privatsammlung von:  /  The private collection of:
                                                          Gerhard Both M.Eng.
                                                          Erlenweg 8
                                                          64342 Seeheim-Jugenheim
                                                          Germany
                                                          +49 6257 9188829   Phone
                                                          +49 171 5428432    Mobile
[D] Dies ist nur ein Blick auf meine Sammlung von annähernd 800 Daguerreotypien.
Von Zeit zu Zeit werde ich mehr Bilder am Kopf jeder Bilderliste ausstellen, daher sollten Sie ab und zu meine Website besuchen. Einige Bilder stehen zum Verkauf. Wenn nicht anders angegeben, sind Preise auf Anfrage erhältlich. Wer zuerst kommt, mahlt zuerst - Versand zu Selbstkosten.
[E] This is only a glimpse at my collection of approximately 800 daguerreotypes.

From time to time I shall exhibit more images at the head of each image list, so you should visit my website once in a while. Some images are for sale. If not otherwise specified prices are available on request. First come, first served - shipping at cost.

Boy standing at table, by Rufus P. Anson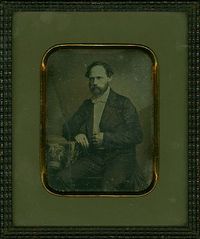 German man from Lübeck, about 1847
French writer with pen, inkpot on table
[D] Das Verfahren der Daguerreotypie, die erste praktische Form der Fotografie, wurde im August 1839 veröffentlicht, war jedoch in seiner frühesten Form selten in der Lage, Porträts zu erzeugen. Dies war auf die lange erforderliche Belichtungszeit zurückzuführen.
Eine Daguerreotypie wird auf einem versilberten Kupferblech hergestellt. Die silberne Oberfläche ist spiegelglatt poliert. Das Silber erzeut bei Sensibilisierung mit Joddampf Silberjodid. Nach einer langen Belichtung in der Kamera wird das positive Bild auf der Oberfläche mit Quecksilberdampf entwickelt - ein Prozess, der früher für die Fotografen sehr gefährlich war. Schließlich wird das Bild mit Natriumchloridlösung fixiert.
Bis 1840 war es Experimentatoren gelungen, die Empfindlichkeit des Verfahrens durch Verwendung von Chlor- oder Bromdämpfen zusätzlich zum Ioddampf zu erhöhen. Die frühesten Daguerreotypien neigen dazu, bläuliche oder schiefergraue Töne zu haben; ein
Brauntönungsverfahren namens "Vergoldung" wurde Ende 1840 weit verbreitet (aber nicht universell) eingesetzt. Daguerreotypien haben außergewöhnlich empfindliche Oberflächen und wurden aus diesem Grund immer in Rahmen oder kleinen Faltkästchen hinter Glas geliefert.
Daguerreotypie-Bilder, von denen die meisten Porträts waren, müssen aus einem bestimmten Blickwinkel betrachtet werden, aber ihre Beständigkeit war eine enorme Errungenschaft bei der Entstehung der Fotografie.
[E] The daguerreotype process, the first practical form of photography, was made public in August of 1839, but seldom able in its earliest form to produce portraits. This was due to the lengthy exposure time required.
A daguerreotype is made on a sheet of silver-plated copper. The silver surface is polished to a mirror-like brilliance. The silver, which when sensitized with iodine vapor, produces silver iodide. After a long time exposure in the camera, the positive image on the surface is developed with mercury vapor - a process very hazardous to the photographers in former times. Finally the image is fixed with sodium chloride solution.
By 1840, experimenters had succeeded at increasing the sensitivity of the process by using chlorine or bromine fumes in addition to the iodine vapor. The earliest daguerreotypes tend to have bluish or slate grey tones; a brown-toning process called "gilding" came into widespread (but not universal) use late in 1840. Daguerreotypes have exceptionally fragile surfaces and for this reason, they were always furnished behind glass in frames or small folding cases.
Daguerreotype images, most of which were portraits, require viewing from a certain angle, but their permanence was a tremendous achievement in the emergence of photography.
                                           Copyright 2021  Fine Photographs